After a series of virtual Congresses, we are excited to welcome you in person at the 33rd Regional ISBT Congress which will be held in Gothenburg, Sweden, from June 17-21.
You can find the latest information regarding the event, the registration, the abstract submission or important deadlines, for example, on this page, which will be updated regularly.
Welcome words from ISBT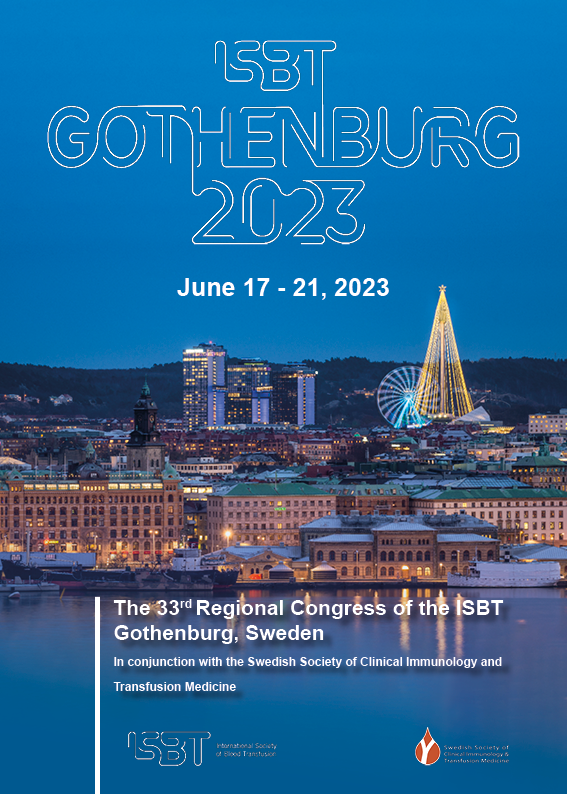 Dear friends and colleagues,
On behalf of the ISBT Board of Directors, ISBT Central Office and our hosts, the Swedish Society of Clinical Immunology and Transfusion Medicine, it is a great pleasure to invite you to the 33rd Regional ISBT Congress in Gothenburg, Sweden. We look forward to an exciting conference and especially to the chance to get together in person for the first time since 2019. The ISBT Scientific Secretary Jason Acker and the Local Organising Committee have put together a programme bursting with topics designed to keep us updated on the latest developments in our field.
Following ISBT Working Party meetings and the Nordic Day, the main programme starts with the popular Academy Day and the science continues with invited state-of-the-art lectures covering the latest science and practical responses to the enormous challenges facing blood collection organizations and transfusion services today. In addition, your abstracts selected for oral or poster presentations will make the Congress buzz with discoveries and late-breaking findings, and interactive workshops will give you the opportunity to get involved.
In parallel, our industry partners are looking forward to welcoming you to the exhibition, reconnecting in person and bringing you their latest technologies and innovations.
As you can imagine, we have also prepared a social program of the kind that you have come to expect from ISBT and that we have all missed during the pandemic! By connecting the young and not-so-young clinicians and scientists, transfusion practitioners and donor experts plus many other categories of delegates, we help to bring together the teams required to answer tomorrow's questions in transfusion medicine.
After the congress, we hope that you will also find some time to explore this unique city and its lovely Scandinavian surroundings. Gothenburg offers 18 hours of daylight the week before midsummer so prepare to be enlightened. For the brave, midnight sun experiences are awaiting you after the meeting, just a bit further north.
Looking forward to seeing you in Gothenburg!
Mike Busch Torsten Eich and Martin L Olsson
ISBT President Joint Congress Presidents
Abstract topics for ISBT Gothenburg
Abstracts for the Submitted Program will be accepted into the following topics:
---