President Mike Busch
Mike Busch became started his term as ISBT President in June, 2022. Find below Mike's words about his career in Blood Transfusion, his main interests and his new ISBT role.
I am pleased to provide this brief note in Transfusion Today as my first formal written contribution as President of ISBT for the next two years.
First, I want to express my and the entire Society's gratitude to Erica Wood, Jenny White and all of the ISBT Central Office Team for their incredible leadership and performance during the past two years as we responded and adapted to the unprecedented COVID-19 pandemic. I also want to extend my personal thanks to the Executive Committee for their support and guidance during my two years as President Elect.
As the ISBT board tracked the rapidly evolving waves of SARS-CoV-2 and global policies and actions, including roll-out and evidence of efficacy of vaccines and emergence and spread of Variants of Concern with variable pathogenicity and capacity for escape from immunity induced by previous infection and vaccination, we made the difficult (in hindsight correct) decisions to cancel in-person Congresses in Barcelona, Milan, Brisbane and Kuala Lumpur. In consultation with John Semple the ISBT Scientific Secretary, the ISBT VPs working on the Academy programme and the local organizing committees, the Central Office and MCI successfully transitioned our congresses to virtual formats whilst retaining excellent scientific content. This was a logistic challenge, with changes in format and time-zones, pre-recorded oral presentations and award lectures, fewer tracks, on-demand access to sessions, recorded short poster presentations and virtual exhibitions, and rearrangement of all associated society business meetings. Fortunately, we are confident that we will be able to return to in person Congresses next year with plans well under way for Regional Congresses in Gothenburg from 17-21 June 2023 and in Cape Town from 18-21 November 2023
In addition to Congresses, in 2021-22, webinars, live journal clubs and virtual/hybrid multi-day workshops were convened, all of which were excellent in terms of organization and scientific content and were well-attended with lively discussions. These events were developed with ISBT working parties, the Young Professionals Council (YPC), Corporate Partners (CPs) and others. They were facilitated by members of the ISBT central office team (Eszter Herczenik, Beatriz Galindo, Jeannette Nader, Mildred Kada, Syeldy Langi Sasongko, Ralph Zepeda) providing IT support and scientific guidance, promotion, liaison with CPs, the YPC and speakers, on-line registration, and also handling finances where necessary.
The ISBT Academy has been active including supporting ISBT sessions at Affiliate Society meetings. The new ISBT Website was rolled out this past spring which includes many new features including an "ISBT Resource Library" and an enhanced "Educational Portal". Thanks to Eric Jansen, Treasurer, and the Central Office, the Society is financially stable with support from committed CPs, Individual Members, Affiliate Societies and organizations and a growing relationship with WHO.
The 2020-22 and 2022-24 boards met to handover leadership roles in Amsterdam in late June 2022; the first in person meeting in 3 years. The meeting included a mid-term strategy review for the board and the Central Office team of committed and talented staff. We considered our progress vs. the 2019-2024 Strategic Plan and reaffirmed our strategic goals (see below). We also refined and prioritized our actions to work towards these goals over the next two years in response to rapidly changing times. We also endorsed our strong support for Working Parties and Standing Committees that are the engines of our Society!
Finally, we had a long-delayed reception and dinner to recognize Judith Chapman, the first Executive Director of ISBT who served for 11 years until early 2020. The Board has decided to establish a new Award in Judith's name in the area of leadership; more details will follow in the coming months.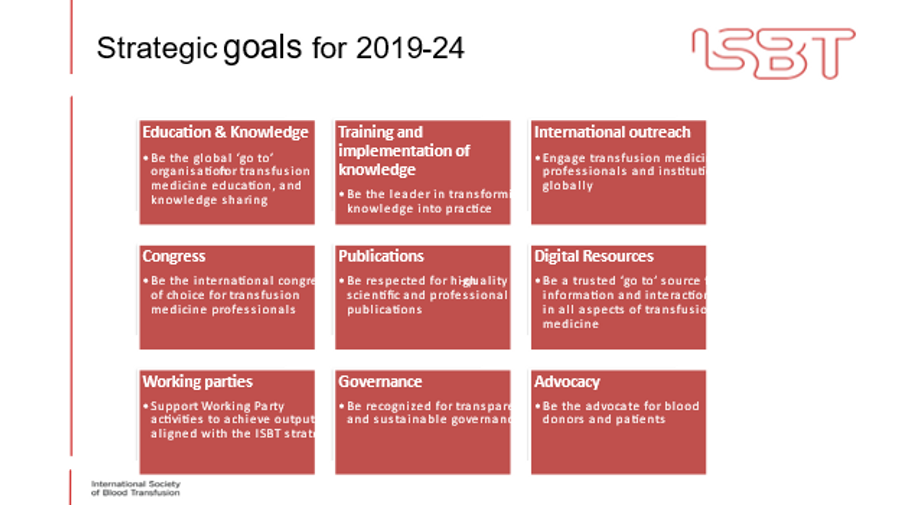 What started your interest in Blood Transfusion?
In the July 1981, after completing my MD and PhD degrees at USC with a research focus on endogenous feline retroviruses, I began my residency at UCSF in Pathology and Laboratory Medicine and was conducting research on retroviruses and oncogenes. When AIDS was first described in 1981 and transfusion AIDS first reported in SF in Dec 1982, I changed my research focus to AIDS/HIV and started working at Irwin Memorial Blood Bank with Herb Perkins on transfusiontransmitted (TT)-AIDS/HIV. I was very fortunate to get involved in leading major HIV studies including the Transfusion Safety Study, the San Francisco Mens Health Study, and large studies to understand the risk of TT-HIV prior to and after introduction of donor deferrals and antibody testing, and to development and implementation of enhanced donor screening serological and nucleic acid amplification technologies (NAT).
How did this interest develop and what are your main topics of interest now?
In addition to risk of TT of HIV I became interested in the possible activation of HIV and possible GVHD in infected transfusion recipients after receipt of allogeneic blood transfusions which included donor leukocytes. This led to a large NIH funded trial of leukocyte reduced vs standard RBC transfusions into HIV infected patients (the Viral Activation by Transfusions Study), and to 20 years of subsequent research in microchimerism following transfusions particularly following severe trauma. This was also when the NIH began to fund the series of REDS programs, which started in 1988 in the US as the Retrovirus Epidemiology in Donors Studies, and are ongoing today as the Recipient Epidemiology and Donor Outcomes Studies which include both domestic and international sites investigating both established TT infections and emerging infectious threats to blood transfusion safety; REDS also developed and applied novel epidemiological (vein-to-vein databases) and omics technologies (genetics, metabolomics, immunology) to study donor, component production and recipient factors to improve RBC, platelet and plasma transfusion efficacy and reduce complications such as alloimmunization, TRALI, TACO and iron depletion.
What have been the most rewarding times in your career?
I have been extremely fortunate to be able to work in the same institution for almost 40 years, and have the support of incredible mentors, blood bank institutions (Irwin Memorial Blood Centers, Blood Centers of the Pacific, Blood Systems and now Vitlant) and NIH, CDC, FDA, the Gates Foundation, and AABB, ISBT and WHO, to establish and grow what is now Vitalant Research Institute. This has allowed me to both conceptualize and drive many large multicenter research programs and to recruit and train hundreds of scientists and technologists many of whom have made collaborative and independent contributions to Transfusion Medicine. Our research has also contributed to many other fields such as the epidemiology, pathogenesis and treatment of HIV and other retroviruses, HBV, HCV, WNV, DENV, ZIKV, T cruzi, babesia and now SARS-CoV-2. We have also made contributions to many non-infectious diseases associated with transfusions or for which blood donors/recipients and new technologies we have developed are applicable. Being able to lead VRI and contribute to science is a gift and I wake up every day with new ideas and am very fortunate to have the relationships and tools to develop ideas into studies that have impact on health and evidence based policies.
What made you decide to apply for the post of ISBT President?
I have been a member of ISBT and active in the TTID Working Party for ~30 years. I chaired the TTID WP for 8 years, during which interacted closely with the ISBT leadership and board. I have always enjoyed ISBT meetings and scientific interactions and had respect and admiration for the global scientific and medical ISBT community. As I was considering scaling back my role as Director of VRI, I decided that running for President Elect and now serving as President of ISBT would become a crowning event on my career.
What are your personal goals in relation to ISBT?
My personal goals for the next 2 years (that will be refined at the Strategic Planning Session of the Executive Leadership and Board of ISBT in Amsterdam in late June 2020), include:
Formulating "lessons learned" from the COVID-19 pandemic including the broad impact of SARS-COV-2 on blood bank organizations and the science and practice of TM throughout the world, and "toolkits" to be prepared for future EID outbreaks/pandemics;
Advancing the application of linked national and international registries, linked donor-recipient databases and repositories, to support analyses of blood collection/processing/testing, transfusion utilization, efficacy and safety and the vision of "Precision TM".
What energizes you most at work?
I am addicted to science, and particularly to research and development relevant to transfusion medicine and to fields such as infectious and immunological diseases and to leveraging of blood donors and recipients to advance big data research. I read new research articles every day and listen to journal (e.g., NEJM, JAMA) and research podcases (e.g., This Week in Virology, IDSA/CDC Weekly Updates) every week. Interacting with my VRI team, national and international study groups, and global colleagues via Teams, is extraordinarily stimulating and rewarding.
What do you do in your spare time?
I have a great wife and family which have been fundamental to my happiness and ability to dedicate so much time and effort to my career. We love playing tennis (now more doubles than singles), have great friends and pets, and enjoy multiple old and new TV series. We live in California, which is fabulous, but also love to travel in the US and internationally both to see and experience the world and enjoy meeting new people and reconnecting with life-long friends.
Finally, is there anything you to add or to say to our Transfusion Today readers and ISBT members?
Please continue to support ISBT, and encourage colleagues to join, as we emerge from the most challenging period in our history (due to COVID-19), resume in person Congresses, and develop and launch our updated strategic plan over the next several years!