World Blood Donor Day 2023
The World Blood Donor Day 2023 campaign took place from June 1-14, 2023, in collaboration with the World Health Organization under the slogan "Give blood, give plasma, share life, share often."
We invited you to join us in sharing this important message and were excited to see that many of you helped raise awareness for blood and plasma donation. Participating in this campaign is crucial because every single blood or plasma donation is a precious life-saving gift. You can see the posts shared by our community searching for the hashtags #ISBTWBDD2023 and #ISBTClinical on LinkedIn, Instagram, Twitter, and Facebook.
We want to express our sincere gratitude to all those who participated by sharing the message and donating blood. Your support and generosity play a significant role in saving lives and ensuring a secure blood supply for those in need.
Key messages of the 2023 campaign:
The need for blood is universal, but access to blood is not. Blood shortages are acute in low- and middle-income countries.
Regular blood donations are needed all over the world to ensure individuals and communities have access to safe and quality-assured blood and blood products.
Every single blood or plasma donation is a precious lifesaving gift; regular donation is the key to building a safe and sustainable supply.
Wide participation of the population in regular blood and plasma donations ensure that everyone can access blood and plasma proteins when they need it.
All blood and plasma donors together provide a precious safeguard for patients and communities.
Ensuring the safety and well-being of blood and plasma donors is critical; it helps build commitment to regular donations.
Special thanks to blood and plasma donors on behalf of people who requires life-long transfusion or plasma protein therapies. We live because you give. Thank you!
Give blood, give plasma, share life, share often.
The objectives of this year's campaign are to:
Celebrate and thank individuals who donate blood and encourage more people to become new donors as well.
Encourage people in good health to donate blood regularly to transform the quality of life for transfusion dependent patients and help to build a secure blood supply in all countries in the world.
Focus attention on donor health and the quality of donor care as critical factors in building donor commitment and a willingness to donate regularly.
Highlight the critical roles of regular voluntary unpaid blood and plasma donations in achieving universal access to safe blood products for all populations.
Mobilize support at national, regional and global levels among governments and development partners to invest in, strengthen and sustain national blood programmes.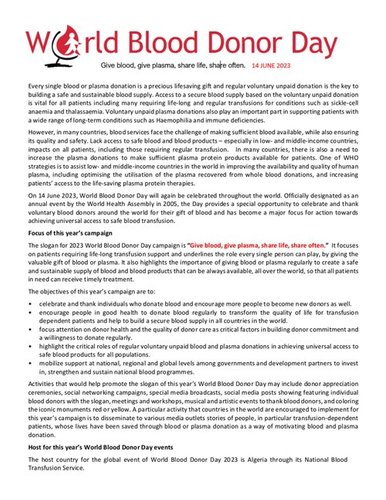 Click to view this PDF online
The latest information and announcements from the World Health Organization on World Blood Donor Day can be found here.
Toolkit World Blood Donor Day 2023
All materials in the toolkits can be shared by everyone. Please remember to use our official World Blood Donor Day Hashtags when sharing: #ISBTWBDD2023 and #ISBTClinical.